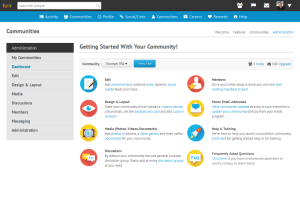 As of this wonderful Wednesday morning, Follr is officially a completely integrated community platform! This latest release is one our entire team is excited about, as our product development department has been hard at work for months to create the most seamless community user experience out there. Read on then visit Follr.com to create your own online community!
First and foremost, we've added massive user experience enhancements to make posting, inviting members and designing your community page easy as pie. You can now post to any of your communities from your personal dashboard via a drop down menu under the text field. You can also reference people (tag a person) or add a photo right from the same field.
Additionally, communities are now community centric, meaning all information is now easily accessible from the community page – everything happens on top of the community so you don't have to toggle back and forth between pages. Easily see who's a member, what people are talking about and what the community is all about – right from the page you're on.
All these changes and more are part of Follr's plan to be the simplest and most comprehensive community platform on the market. Start creating an online community for your brand, business, special interest or group and we think you'll agree!
{ 0 comments }